20
Sep
-
22
Sep
International Liver Cancer Association (ILCA) Conference - Chicago - Save the Date
more
Save the Date
The 13th International Liver Cancer Association (ILCA) conference is taking place from 20-22nd September in Chicago.
Visit the conference website for more information here > https://www.ilca2019.org/ .
27
Sep
Annual Cambridge Liver Symposium 2019
more
The Cambridge Annual Liver Symposium is taking place on Friday 27th September from 08:30 – 16:00.
Venue: Robinson College, Cambridge.
Dinner: Thursday 26th September 20:00.
Topics include:
Autoimmune / PSC
NASH/fibrosis assessment
Genetic liver disorders
Interactive MDT-style cases (viral/portal HT)
Download a copy of the programme here > Download Camliversymp2019finalprog.pdf
FREE to attend and CPD accredited (6 points).
If you have any questions and to reserve your place please contact cambridge.liversymp@addenbrookes.nhs.uk or telephone: 01223 586 891.
25
Oct
UK PSC Study Day
more
UK-PSC are organising a UK PSC Study Day that will be held on Friday 25th of October 2019 in Leeds (UK), at the Hilton Hotel. We are hoping that you would be able to attend – Please Hold the Date.
For registration and further details, please visit and monitor: www.birmingham.ac.uk/ukpsc.
We look forward to seeing you,
Many Thanks and Best Wishes,
UK-PSC (Dr Palak Trivedi and Team)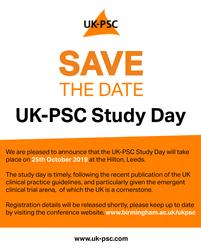 20
Nov
Royal Society of Medicine (RSM) 5th liver day: Current perspectives in liver disease
more
Date: Wednesday 20th November
Time: 08:45 – 15:30
Read more on the link to the RSM event page by clicking - here.
The RSM liver day will explore key advances in our understanding and management of liver disease. Plus a comprehensive review across a wide range of key hepatological conditions.
The meeting will provide a unique forum for consultant hepatologists, gastroenterologists, specialist registrars and clinical nurse specialists to discuss the current challenges and approaches to the management of liver disease.

Topics include:
• The latest therapeutic advances in chronic liver disease
• How to optimise outcome in alcohol-related liver disease
• The latest therapeutic strategies for viral hepatitis
• Optimise management in acute liver failure and the criteria for transplantation
• Review the pathogenesis and management strategy for fatty liver disease.
If you have any questions, please contact Lucy Farrell at lucy.farrell@rsm.ac.uk .
21
Nov
RCPE Symposium: Gastroenterology - Edinburgh
more
Date: Thursday 21 November 2019
Venue: Royal College of Physicians of Edinburgh
Topics: Gastroenterology at the forefront of public health endeavours; nature or nurture - lifestyle diseases; reflux; bariatric endoscopy; mesenteric ischaemia; nutritional challenges in a failing gut
Website: https://events.rcpe.ac.uk/gastroenterology-0
Contact: m.farquhar@rcpe.ac.uk
30
Jan
-
31
Jan
RCPE Course: 24th Advanced Gastroenterology and Hepatology Course - Edinburgh
more
Registration is Open
The above course will feature experts speaking in their fields from The Netherlands, USA, Devon, London, Oxford, Birmingham, Sheffield, Southampton, Newcastle, Glasgow, Dundee and Edinburgh.
Oversea Speakers include Professor Michael Wallace from The Mayo Clinic USA speaking on Artificial intelligence in endoscopy and Professor Ernst Kuipers from Rotteradam The Netherlands speaking on Chronic atrophic gastritis and intestinal metaplasia.
This well-established, two-day course attracts trainees and consultants from across the UK and Europe. It is designed to cover important and "hot" topics, including an update on the latest evidence base for the management and treatment of gastrointestinal and liver conditions..
The course will be held in the Royal College of Physicians of Edinburgh
Please visit the course website for full programme details and registration - https://events.rcpe.ac.uk/advanced-gastroenterology-hepatology-2020 .
15
Apr
-
19
Apr
The International Liver Congress, London UK
more
At EASL's annual International Liver Congress, ILC 2020, doctors, patients, allied health professionals and policymakers will discuss the important new insights and information to help them combat liver disease. Attendees will hear the latest epidemiological and real-world data on how physical inactivity and poor diets contribute to liver disease and gain a deeper understanding of the underlying mechanisms. Leading clinicians and researchers in the field will talk about the kinds of everyday life changes that can help or even reverse liver disease, and update on treatment options.

The congress will also update attendees on EASL's important policy and advocacy work, providing evidence and support to governments and international organizations implementing laws and policies that promote health in daily life.

Whatever your role, ILC 2020 will involve you in EASL's mission to improve liver heath and support you in doing your part.

The International Liver Congress™ 2020 website, abstract submission and registration will be available as of 1 October 2019.
For the latest news, sign up to the ILC newsletter.
23
Apr
-
24
Apr
RCP Annual Conference Medicine 2020 - Birmingham
more
Medicine 2020 is the RCP's sixth annual conference and takes place at The ICC, Birmingham. Bringing together speakers at the forefront of improving patient care, Medicine 2020 will provide an essential national update for physicians from all career grades and specialties. Exploring ground-breaking medical developments, we'll focus on how to deliver world-class healthcare.
Full information can be found on the RCP website here > https://rcpmedicine.co.uk/2020/
Medicine 2019 was a record-breaking success with over 900 delegates enjoying the clinical networking event of the year. Headline speakers Baroness Dido Harding and Matt Hancock MP ensured lively discussion on the latest policy developments and helped to spark debate among delegates and speakers. The principal and corporate sponsors created a vibrant and dynamic experience for attendees.
Download the Medicines 2019 highlights report here > Download Medicine 2019 Highlights report.pdf